Saat pandemi, bayar gaji tidak perlu menggunakan uang tunai!
DotX adalah solusi pembayaran gaji non-tunai untuk pekerja yang tidak memiliki rekening bank
Daftarkan perusahaan Anda untuk menerima akun demo dengan 10 kartu debit gratis
Manage and pay up to 100,000 workers
DotX payroll software can manage your entire payroll. 
Start by creating a work contract then your worker's pay will automatically calculate on a daily basis.
Simply approve all amounts at the end of each month and click pay.
No bank account required!
All your workers will receive a unique bank account number without having to open a bank account.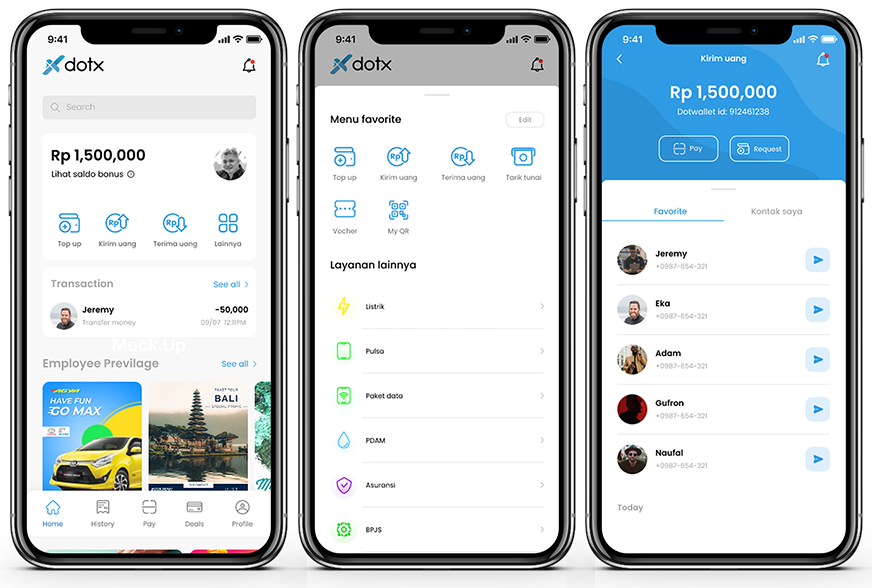 No monthly, transaction or ATM withdrawal fees​
All your workers receive an ATM card issued by the bank. They can use the ATM card in any ATMs in Indonesia. Using this ATM card, they can do everything such as cash withdrawals, money transfer, pay for bills and much more.

Private, enterprise blockchain for unparalleled security
Blockchain is secure by design because data are encrypted. Even if a hacker downloads the entire database, it will take 0.65 billion years to decrypt the data using a supercomputer.
Payroll Software
Use your existing payroll software or our powerful payroll software to manage your workers payments.
Bank Transfer
We issue all your workers with a bank account number.
Payroll Disbursements
Transfer in one lump sump or transfer to each individual bank accounts.
Worker's ATM & App
Withdraw from ATM'S or use our mobile app to transfer money to any bank account.
UPLOAD PAYROLL SPREADSHEET
(Works with your existing payroll)
Able to pay thousands of workers

Transaction Confirmation By SMS
DOTX PAYROLL SOFTWARE
(If you don't have a payroll software)
Manage HR, Payroll and payments in one

Able to manage thousands of workers

Face recognition attendance
Mobile App for Android & iOS
(SMS only feature available soon)
Free virtual account number

5 Free ATM transactions per month

5 Free money transfers per month
Please fill with your details and we will be in touch